Research Assistants Program- ACCEPTING APPLICATIONS NOW!

Research Assistant Program: A partner-driven project that matches students with western leaders in need of conservation assistance in order to develop practical solutions.

Students work in pairs to tackle interdisciplinary projects that span and intersect biophysical, social, economic, cultural, and policy topics. Students typically work 4-8 hours/week remotely and are paid ($15.75/hour) while completing projects during September/Oct-May from New Haven. Students meet regularly with UHPSI staff and remotely with western partners.

How to apply:

View the the details of the 3 projects available for the 2022-2023 academic year by visiting here. These projects include:

A Systems Thinking Approach to Wood Processing and Forest Health in Wyoming
Evaluating Mesic Restoration Efforts in Montana with Geospatial Tools
A Strategic Framework for Deploying CCALT's Agricultural Resiliency Fund on Conserved Working Lands

2. Applications accepted on a rolling basis. Please submit 1 PDF document via email to Michelle.Downey@yale.edu by 11:59pm September 11, 2022 that includes:

Please review student expectations in order to give you an idea of commitments and what is expected of every research assistant.

More information about the program can be found at the links below: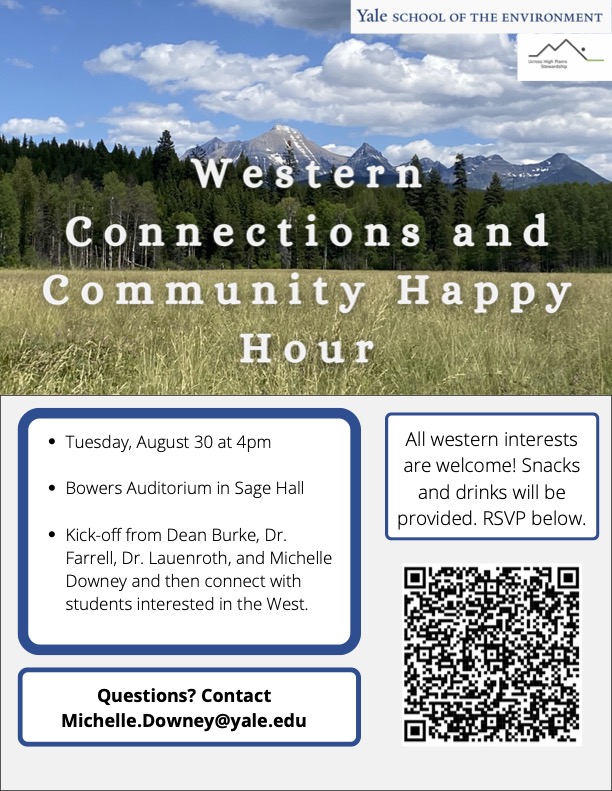 More Western Connections and Community event will be coming. This is a new series that UHPSI is hosting to encourage connections and community among students, staff, and faculty interested in the American West at Yale. All are welcome.
---
Land Stewardship and Management Immersion Field Trip – Coming Spring 2024!

UHPSI at Yale School of the Environment partners with Noble Research Institute in Ardmore, Oklahoma to offer Yale students participation in a 4- day field-based, land management trip. The field trip may take place during March 2024. Noble's Land Stewardship team is skilled in regenerative ranching, prescribed burn implementation, landowner engagement, range and wildlife management.

Activities:

– Ranch Tours
– Prescribed burns
– Plan and implement grazing strategies and assess impact
– Learn about ranch ecosystem processes and soil health indicators
---
---