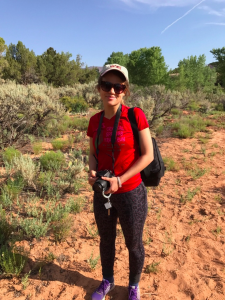 Hello! I am having a wonderful start to my summer working on my Bears Ears Documentary Film Project and research project. As many of you know, the recent designation of the Bears Ears National Monument has sparked much debate in Utah and beyond. Recently, Secretary Zinke has decided to review all recent controversial national monuments and he announced two weeks ago that he is planning to redraw the boundaries of the Bears Ears National Monument in the coming months in order to reduce its size. Many journalists believe that he could try to reduce the monument from 1.35 million acres to 100,000 acres, a drastic reduction which is supported by many groups and feared by many others.
This past month, I have had the chance to speak with stakeholders about the Bears Ears National Monument. I spoke with Gov. Herbert of Utah, Patagonia, the Bears Ears Intertribal Coalition, the county commissioner of San Juan County, historians, local residents, outdoor enthusiasts, and more. I have learned that land use issues in the West are far more complex than I had previously known and that the many cultures of Southern Utah (recreationalists, tribes, ranchers, and farmers) make compromise on this issue especially difficult.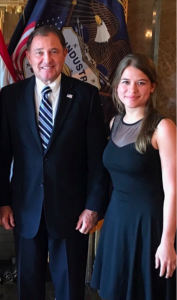 Perhaps my most interesting interview was with a history professor named Dr. Neel. She challenged me to think about the assumptions underlying the disagreement over the national monument status in the Bears Ears area. While almost everyone and every group in Utah has chosen to take a "side" on this issue, she discussed with me how both the idea of protecting the land and the idea of using the land for Utah's economic and natural resource development stem out of the same assumption – an assumption that humans ultimately will decide the fate of the land. However, as she pointed out, the natural environment has been around far longer than humanity and will persist far longer. This perspective was unexpected and got me thinking about the cultural assumptions we assert over land in the United States.
I look forward to speaking to more people in the coming weeks about the Bears Ears National Monument and I am looking forward to heading to the retreat soon!
–Cayley Geffen