Meghanlata Gupta is a current sophomore at Yale with a major in sociocultural anthropology. Her interests lie at the intersection between Native American law and policy, land management, and Tribal health in the West and throughout the United States. Meghan will be writing a series of blog posts focused on wild bison management in the West.
—
Every year, over three million people visit Yellowstone National Park to experience the natural beauty of the Western United States. The park features unique geothermal activity, a large diversity of flora and fauna, and almost endless outdoor recreation opportunities—in truth, there is something for almost everyone to do or see. Additionally, as the first established national park in the United States, Yellowstone often acts as a symbol of the entire national park system.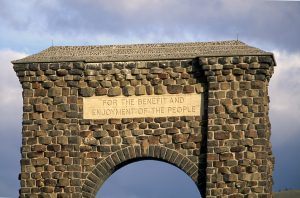 Yellowstone National Park, celebrated since its opening in 1872, is historically significant for Native Nations in the surrounding area. Early appearances of Indigenous people in what is now the Greater Yellowstone Ecosystem date back to thousands of years ago, as tribes developed communal bison hunting strategies between 5,000 and 2,500 BC and then "visited geysers, conducted ceremonies, hunted, gathered plants and minerals, and engaged in trade" during the Little Ice Age. The area also became spiritually meaningful for numerous Native peoples due to its seemingly-divine geothermal spots and abundance of food and medicinal resources. For example, the Blackfeet, Shoshone, and Crow people (among others) gathered obsidian and other minerals, hunted buffalo, and performed religious ceremonies centered around Yellowstone's unique natural properties.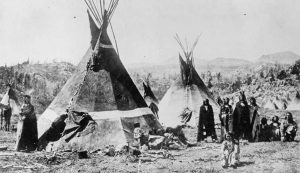 Historians record that the federal government committed a serious violation of Native treaty land and hunting rights in creating Yellowstone National Park. In order to create the "ideal tourist attraction" that would be Yellowstone, the government prohibited private development and hunting within the park boundaries. Surrounding Native tribes, who had long treasured the area and already faced limited food sources as a result of previous assimilation and oppression efforts, suffered from starvation due to this loss of their hunting rights and the deprivation of their lands. Native Americans who did attempt to hunt or perform ceremonies in the park put themselves in great risk, as the military managed the park and strictly enforced the limitations.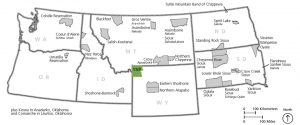 Currently, there are twenty-six tribes that claim a historical connection to Yellowstone National Park. These twenty-six nations should have a seat at the table—they should have a voice in the conversations surrounding land preservation, wild bison management and relocation, and the rising rates of tourism that deeply shape the environmental and sociopolitical climate of the Greater Yellowstone Ecosystem. In thinking about the core purposes of Yellowstone—conservation, preservation, wilderness—we must also recognize how these ideals often erase Native history and Native presence in the Western landscape, and we must work to change this tendency by including Native voices in management of this important ecosystem.
—
Meghanlata Gupta, Communications Coordinator | Meghanlata is a sophomore at Yale College majoring in Anthropology. As a member of the Sault Ste. Marie Tribe of Chippewa Indians, she is interested in wild bison reintroduction onto Indigenous lands and Native American health law and policy. In addition to working on communications with Ucross, Meghanlata is involved with the Association of Native Americans at Yale and the first-year pre-orientation program FOCUS on New Haven. See what Meghanlata has been up to.  |  Blog