Findings
Visit Zhi's story map here to learn more about forest management recommendations in burn areas.
Summary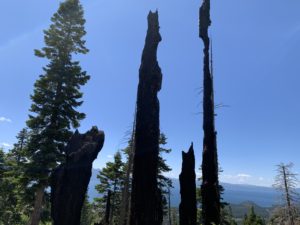 Zhi's ecological research in the central Sierra Nevadas explores the role of wildfire in forest ecosystems. Large, severe fires have been increasing in recent decades and present major economic and ecological challenges in the western United States. Through collaborating with US Forest Service researchers and the University of California-Davis, Zhi leads a team of four to collect floristics and other ecological data in the coniferous forests burnt by the Rim Fire, a fire burning more than 257,000 acres of the Stanislaus National Forest and Yosemite National Park in August 2013.
With these data, Zhi is beginning to answer questions about fire-adaptive ecosystems: How do fires of low, medium, and high severity influence coniferous regeneration differently? How is species composition influenced by shrub and seed source after fires? Besides gaining skills and experience to enter the academia field, Zhi will apply the conclusions from his research to management practices which can improve forest resilience to future catastrophic fires and other stressors.
Collaborators
Forest Services, Region 5 & the University of California-Davis | Website
Student Researcher
Zhi Li, Research Assistant and WRF Fellow | Zhi comes from Shantou, a coastal city of about five million in Southeast China. He became passionate about forest ecology during his education at Brandeis University and worked for Harvest Forest to conduct research at Walden pond in Massachusetts. Zhi is pursuing a Master of Forest Science degree at the School of Forestry and Environmental Studies, where he focuses his research on fire ecology and forest regeneration in western United States. Besides his academic interests, Zhi is enthusiastic about rock climbing and basketball. See what Zhi has been up to. | Blog