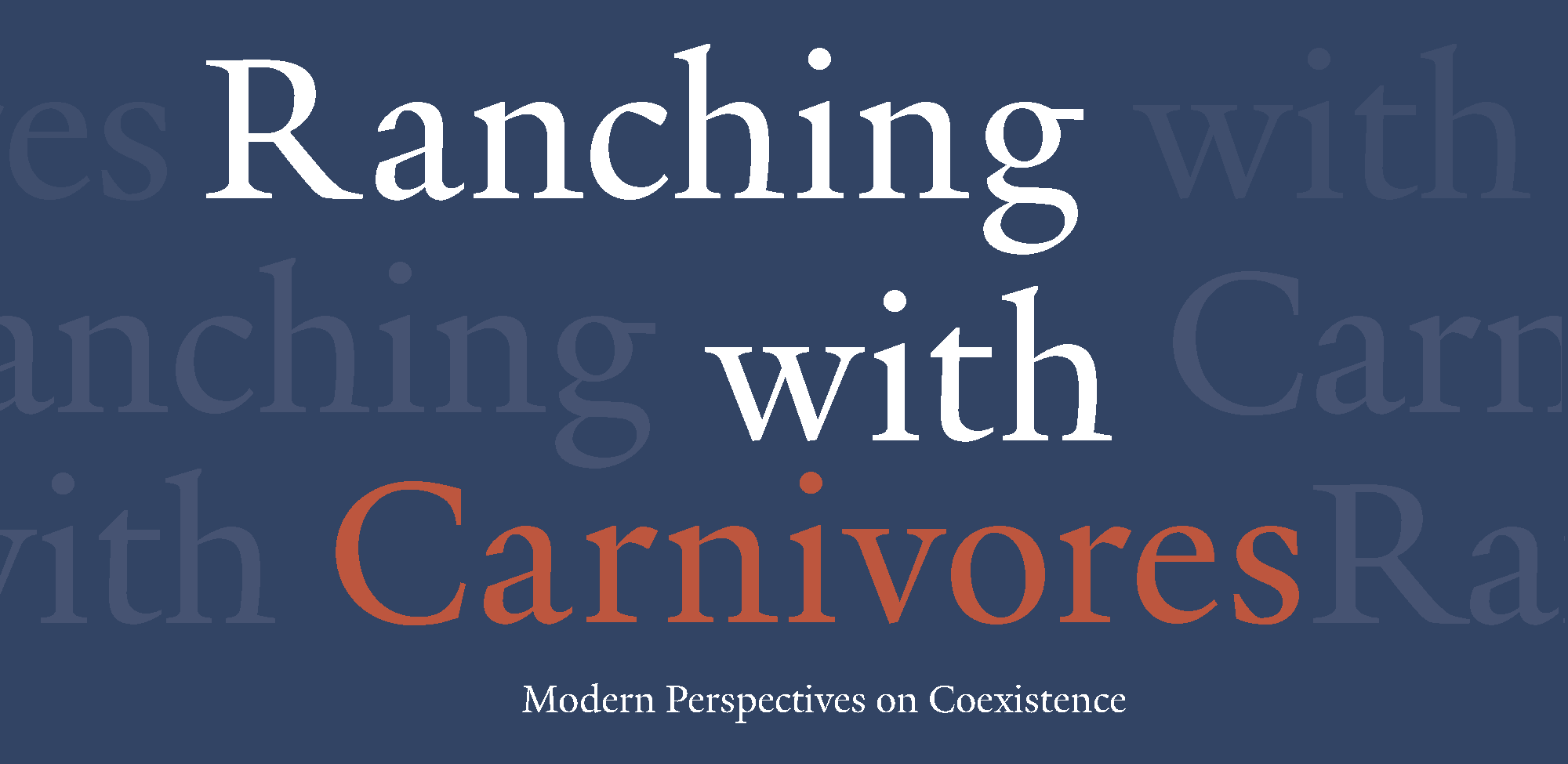 The Ucross High Plains Stewardship Initiative at the Yale School of Forestry and Environmental Studies, in collaboration with ConBio and Westies SIGs, is hosting a symposium on ranching and large carnivore interactions in the West. The symposium will kick off on Thursday evening, February 2nd at 6:00 pm in Burke Auditorium with a film screening of The Range Riders. Friday, February 3rd, from 12-5 pm, on the third floor of Kroon Hall, the symposium will include free lunch, panels and breakout sessions on topics ranging from how ranchers deal with loss and compensation, to strategies for reducing predation on livestock, to predator ecology and the sociology of conflict and coexistence with carnivores in the American West. Find below a full symposium agenda and bios from symposium participants. We hope to see you there on the 2nd! Please RSVP for the symposium here.
Film Screening Thursday, February 2nd, 6:00 pm | Burke Auditorium
The Range Riders, an independent documentary film directed by Susan Kucera features several people in the ranching world dealing with the expanding wolf population, particularly in Washington, Montana and Wyoming. One of the main characters is a rancher (Kathy) in eastern Washington who is nervous about her animals as wolves are recolonizing. Others are ranchers or range riders who are learning to coexist with large carnivores. Featuring special guest Matt Barnes, of People and Carnivores, who worked with a number of ranchers and managers on the Union Pass Project. Matt will be available after the screening for questions.
Symposium Agenda for Friday, February 3rd 2017
Welcome and Introduction | 12-1 PM | Burke Auditorium | Indy Burke & Charlie Bettigole | Livestream
Session 1a: Role of carnivores in promoting biodiversity & Predator biology
1-2 PM | Kroon 321 | Os Schmitz & Dan Thompson | Moderated by Mikael Cejtin | Webinar Link
Session 1b: Sociology of Conflict & Building Social Tolerance
1-2 PM | Kroon 319 | Penny Maldonado, Barbara Cozzens, & Hannah Jaicks | Moderated by Elizabeth Domenech | Webinar Link
Session 2a: Loss & Compensation
2-3 PM | Kroon 321 | Dan Thompson, Freddie Botur, & Jeff Bectell | Moderated by Sam Jordan | Webinar Link
Session 2b: Strategies for prevention: Guardian Animals
2-3 PM | Kroon 319 | Danny Kinka, Barbara Cozzens, & Mikael Cejtin | Moderated by Ben Goldfarb | Webinar Link
Session 3a: Strategies for loss prevention: Wildlife Services (lethal techniques and other)
3-4 PM | Kroon 321 | Zack Strong | Moderated by Ben Goldfarb | Webinar Link
Session 3b: Strategies for loss prevention: Infrastructure
3-4 PM | Kroon 319 | Matt Barnes, Mikael Cejtin, & Jeff Bectell | Moderated by Charlie Bettigole | Webinar Link
Working Together | 4-5 PM | Burke Auditorium
Matt Barnes, Penny Maldonado, Freddie Botur, & Dan Thompson | Moderated by Os Schmitz | Livestream
Dan Thompson | Wyoming Game & Fish Department Dan currently heads up the large carnivore section of the Wyoming Game and Fish Department; responsible for science based management and monitoring of large carnivores (mountain lions, wolves, black and grizzly bears) throughout Wyoming and the Greater Yellowstone Ecosystem. He received his PhD from South Dakota State University in 2009, evaluating population demographics of mountain lions in the Black Hills of South Dakota and Wyoming and has been studying large carnivore ecology for over 10 years. His career interests include large carnivore expansion and recolonization, interactions among sympatric carnivores, predator prey dynamics in ever-evolving systems, and the applicability of research toward management. His current research focuses on feasible methods to monitor cryptic and low density carnivore populations as well as quantifying and evaluating potential predation impacts to ungulates in multiple carnivore/multiple prey systems. In addition, he currently serves as adjunct faculty at South Dakota State University, Utah State University, University of Wyoming, and Montana State, and strives to maintain the strong ties to the field to help in the cultivation of future wildlife professionals that excel in real world situations.
Matt Barnes | People & Carnivores Matt Barnes, field coordinator at People and Carnivorescollaborates with ranchers and land managers to integrate livestock-carnivore coexistence with holistic ranch and rangeland stewardship, in Montana and Wyoming. Matt is an applied rangeland scientist and conservationist, whose work has focused on grazing management. Previously, Matt ran a holistically managed custom grazing operation at a Colorado ranch, developed conservation and grazing plans in the USDA Natural Resources Conservation Service, prevented and mitigated human-bear conflict with the USDI National Park Service, trapped grizzly bears for the Idaho Department of Fish and Game, and served as president of the Colorado Section Society for Range Management. He serves on the Rangelands Editorial Board. He holds an MS in Range Science from Utah State University and a BS in Wildlife Ecology from the University of Arizona.
Ben Goldfarb | Environmental Journalist Ben Goldfarb is an environmental journalist whose writing on carnivore coexistence strategies has appeared in Science, Orion Magazine, High Country News, Earth Island Journal, Modern Farmer, and other publications. He serves as a project editor at the Solutions Journalism Network, and has spoken about science writing and communication at venues including the American Fisheries Society and the North American Congress for Conservation Biology. In a past life he radio-tagged sea turtles in North Carolina, removed invasive trout from Yellowstone National Park, and surveyed trees in the urban jungles of the Bronx. He received a Masters of Environmental Management from the Yale School of Forestry and Environmental Studies, where he served as editor-in-chief of Sage Magazine.
Penny Moldanado | Cougar Fund It's never too soon to get a late start! That is why I am working for The Cougar Fund. My childhood was enhanced and challenged by growing up in a loving British military family. We moved many times and I was exposed to different cultures and conflicts. Living in the Middle East during the War of Attrition, and returning to the UK at the height of IRA violence on the mainland, I learned experientially that beliefs and values drive attitudes and behaviors, and that fear wields power, whether in
war or in conservation. 'Army brats' never actually come from anywhere….'home' is always somewhere you hope to find. My interest in, and love of, people, led me to the caring professions, but a four-­‐month hitchhiking trip across North America precipitated an ache for living wisely with the natural world. I earned a degree at the University of Newcastle upon Tyne and headed for the forever home that awaited me in the USA!
In 1993, after fourteen years in Nevada, I finally had the opportunity to move to Wyoming, where, living as I do, in the most complete ecosystem in the lower 48, comes with an enormous responsibility. The privilege of living here carries a mandate to value and protect the precious gift of beauty and wildness. For twenty of those years, I served the public as Postmaster of Moose. It gave me the management skills I use today, but it also gave me the privilege of witnessing and interacting with thousands of people experiencing the magnificence of the environment for the first time. I still volunteer as a backcountry ranger in Grand Teton National Park, encouraging and educating visitors on how to co-­‐exist safely with wildlife. Four years ago those transformational visitor experiences inspired me to accept my position at The Cougar Fund, where we can make conservation relevant and meaningful through the lens of one of the most mysterious co-­‐inhabitants of our planet. In the same way that The Cougar Fund was born of a unique story about a particular mountain lion and her young, my work there is the culmination of a very unlikely life story!
Os Schmitz | Yale School of Forestry & Environmental Studies My research focuses on studying the linkage between two important components of natural systems: pattern in the distribution and relative abundance of species biodiversity and the quantity and rate of biogeochemical cycling, resource supply, and plant production and ecosystem function. In this endeavor, I subscribe to a view of ecosystem structure that recognizes that biodiversity-ecosystem function relationships should be examined in two important dimensions. There is diversity in the functional groups of species (plants, herbivores and carnivores) that comprise ecological food chains. There is diversity in the kinds of species belonging to a particular functional group (e.g, grazing herbivores, browsing herbivores). This dimensionality is what makes ecosystems complex. The endeavor to understanding this complexity is what, for me, makes ecological science so exciting.
I tackle issues of complexity using field experimentation guided by formal mathematical theory of species interactions. Both theory development and field research is aimed at identifying functionally unique groupings of predators and herbivores. These insights in turn motivate research aimed at discovering how species functional identity causally determines the species composition and productivity of plants in ecosystems, and ensuing ecosystem processes such as nutrient and carbon cycling. I also conduct research that focuses on elucidating how important environmental disturbances, such as global climate change and natural resource exploitation, alter the nature and strength of species interactions in ecosystems and ensuing ecosystem services.
I am also passionate about using scientific insights to aid efforts to conserve vital services that species in ecosystems provide to humankind. Such research evaluates how to rethink conservation strategies by considering species as part of a natural portfolio with substantial investment opportunity. This portfolio represents a wealth of potential alternatives to contemporary technologically intense and expensive approaches in environmental management.
Mikael Cejtin | Yale School of Forestry & Environmental Studies Mikael studied wildlife ecology and conservation at the Yale School of Forestry and Environmental Studies. With a focus on large carnivores, he has tracked bobcats in Vermont, wolves in the Tetons, and pumas in Patagonia. Mikael recently co-authored an article on techniques to prevent livestock killings by large carnivores. When forced to be indoors, Mikael enjoys reading, writing, and strumming guitar while sipping a good whisky.


Freddie Botur | Cottonwood Ranches Our family has owned Cottonwood Ranches for over 25 years. I have been the manager of Cottonwood Ranch for 14 years. During that time I have forged public/private partnerships with the oil and gas industry, federal and state agencies, and conservation groups for compensatory mitigation projects, putting nearly 4000 acres of the ranch into conservation easements. Along with our holistic grazing practices I have been partnered with University of Wyoming programs and studies, Teton Science School, and others to further promote and understand the values and resources of these important landscapes. I have also served as the vice chairman for the Bureau of Land Management Resource Advisory Committee. My background is in the construction industry, hospitality, and early stage startups in Wyoming and Colorado. I traveled the world as a child, and even more as a climber. I studied at Montana State University, and Naropa University in Colorado. My wife Amanda and I have three beautiful children and live between Boulder, Colorado and the ranch here in Wyoming.
Jeff Bectell | Rancher & Chair of the Waterton Biosphere Reserve Association Jeff and his wife Liz ranch with their children south of Cardston, Alberta on land that has always been 'home'. He joined the WBRA in 2009 as a director and is currently the Chair, as well as the Coordinator of the Carnivores and Communities Program. He enjoys working with others in the community to ensure that generations to come can enjoy this area that he loves so much. Jeff has a B.S. in Zoology from the University of Calgary.
Zack Strong | Land & Wildlife Program, Natural Resources Defense Council Zack Strong is a staff attorney and wildlife advocate with the Natural Resources Defense Council. His work focuses on protecting wolves, bears, and other predators in the Northern Rockies and beyond. He holds a bachelor's degree in environmental studies from Dartmouth College and a JD from the University of Montana. He is based in Bozeman, Montana.
Danny Kinka | Ph.D. Candidate in Ecology, Wildland Resources Department, Utah State University There is no ecosystem that is not substantially influenced by humans. I am fascinated by research that integrates the ecological and social sciences to address applied issues in social-ecological systems. In particular, I am interested in human dimensions research pertaining to human-carnivore conflict management and carnivore conservation. Currently, I am studying the use of guardian dogs as a management tool for reducing livestock depredations by large carnivores.
Barbara Cozzens | Nicholas School of the Environment, Duke University Synthesizing science, policy and socio-economics, Ms. Cozzens guides high-profile land and wildlife conservation campaigns. As Northwest Wyoming Director, Ms. Cozzens oversaw the Greater Yellowstone Coalition's conservation portfolio in the Absaroka-Beartooth Front, the 3 million-acre eastern stronghold of the Greater Yellowstone Ecosystem. Previously, she directed the Nature Conservancy's Northern Montana Prairies program, working collaboratively with agricultural producers to preserve native grasslands and associated species. In these roles, Ms. Cozzens earned praise from both ends of the socio-political spectrum for her commitment minimize conflicts and find common-sense solutions. From 1999 to 2008, Ms. Cozzens was at the World Bank Group where she de¬veloped projects that advanced sustainable, economic growth in developing countries.
Ms. Cozzens served on the boards of the Rancher's Stewardship Alliance and the Equality State Policy Center, and was the Montana-alternate to Partners for Conservation. She was a member of the Montana Prairie Dog & Black-Footed Ferret Working Group, as well as the Crossing the Medicine Line initiative, a trans-boundary partnership to improve biodiversity conservation across Canadian and U.S. grasslands. She currently serves on two NSF-funded projects: "Mathematical and Computational Methods for Planning a Sustainable Future" and the UNESCO-supported "Mathematics of Planet Earth 2013+".
Ms. Cozzens holds a BA in biology from Colgate University and studied ecology and ecological modeling at the University of Montana's Flathead Lake Biological Station and the University of West Indies in Jamaica. Under Stuart Pimm at Duke University's Nicholas School of the Environment, she is completing a study titled "Limiting Livestock Depredation in the American West: Applying Lessons Learned from the Developing World".
In the mountains just outside Colorado's Rocky Mountain National Park, she lives with a flock of goats, a small herd of horses, both effective and ineffective livestock guardian animals, and the full complement of western predators.