The Symposium Student Coordinators organize the Western Speaker Series, which connects knowledgeable conservation professionals with Yale students to learn about and discuss issues facing the American West. The coordinators work with the UHPSI staff to plan presentations and panel discussions on campus with speakers who bring valuable insight and perspectives on the past and future of Western conservation efforts. The 2019 Western Speaker Series includes discussions on the state and future of the Colorado River Watershed, human-wildlife conflict in urbanizing western environments, and conservation of indigenous lands. Previous symposia have covered conflict resolution in the American West, human/carnivore coexistence, and public/private land management partnerships.
Project Deliverable
See the guidebook here.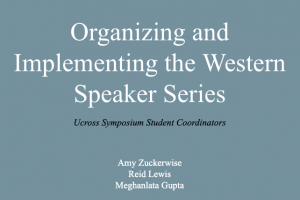 See the student presentation here.
Student Coordinators
Meghanlata Gupta, Communications Coordinator | Meghanlata is a sophomore at Yale College majoring in Anthropology. As a member of the Sault Ste. Marie Tribe of Chippewa Indians, she is interested in wild bison reintroduction onto Indigenous lands and Native American health law and policy. In addition to working on communications with Ucross, Meghanlata is involved with the Association of Native Americans at Yale and the first-year pre-orientation program FOCUS on New Haven. See what Meghanlata has been up to. | Blog
Reid Lewis, Symposium Coordinator | Reid is a Master of Forestry candidate at the Yale School of Forestry and Environmental Studies. Hailing from Flagstaff, Arizona, he hopes to return to the West to aid in managing drought-resilient, fire healthy forests. With Ucross, Reid assists in brining prominent western speakers to the FES community to share valuable knowledge and perspectives about western environmental issues. See what Reid has been up to. | Blog
Amy Zuckerwise, Symposium Coordinator | Amy Zuckerwise is a Master of Environmental Science candidate at the Yale School of Forestry and Environmental Studies. Amy studies carnivore ecology and conservation, with a focus in small and medium-sized wildcat species. Prior to Yale, Amy worked as a wildlife biologist in environmental consulting in Southern California. During her undergraduate degree at Stanford University, she majored in Biology with honors in Ecology and Evolution, and conducted her thesis research on the ecology of bobcats, pumas, and other mammals in northern California. See what Amy has been up to. | Blog