Well, we did it! With much better weather for our second attempt, Grace, Conor and I were able to settle in at our Clear Lake basecamp to focus on sampling at Deep Lake. Now we are all safely back out of the mountains and (speaking for myself at least) ready to dry out, warm up and eat some fresh veggies.
All in all, research went smoothly. We were able to stick to our sampling schedule at the Deep Lake Outlet, missing only 2 full evenings of sampling and bailing midway through one collection period because of thunderstorms – standing in an alpine lake is not a great place to be with lightning above. I had hoped to collect data from the lake inlet as well, but it was still frozen when I left yesterday. Flow was also especially challenging to measure as the creek was rarely channelized but instead a broad smear of water covered in patchy snow.
In total, we collected 401 samples, leaving basecamp every day at
7 am and 5 pm
to snowshoe up to Deep Lake. Each visit to we collected 1 water sample, 3 dissolved gas samples, and 3 atmospheric samples for 7 total data points. We even managed one 24 hour cycle where we collected these samples once every hour. Analyzing this data should help us quantify the pollutants in the snowmelt as well as understanding the flux of methane in alpine lakes through the spring.
Depending on the time of day it would take us anywhere from 30 minutes to an hour to ascend the 1.5 miles to Deep Lake. Firm morning snow made for a pleasant and chilly stroll. Evenings were usually a sweaty slog through snow with the consistency of mashed potatoes. Regardless of the conditions, the view was always amazing with Temple and East Temple Peaks to the south and the Cirque of the Towers to the North. A few highlights included summiting East Temple Peak, seeing a pine marten and wolverine, staying up all night to collect data and watching the seasonal transition.
In the past, I've always gone into the mountains with a specific goal in mind – to reach a destination, ski off of a peak or climb a route. This time, we stayed put and watched the transition from winter to summer. When we arrived, it was snowing, and we set up tents on flattened snow platforms. Now the rock slabs and shrubs are exposed, and the mosquitoes are buzzing. Where we were skiing across lakes a month ago is now open water. I just can't believe how quickly the transition happens. For now, I'm ready for some time off but looking forward to coming back in August to continue the research.
Sending a few pics your way and might have more soon. Unfortunately, I'm having some technical issues and may have lost the bulk of my photos. These will have to do for now.
Happy first day of summer,
Taylor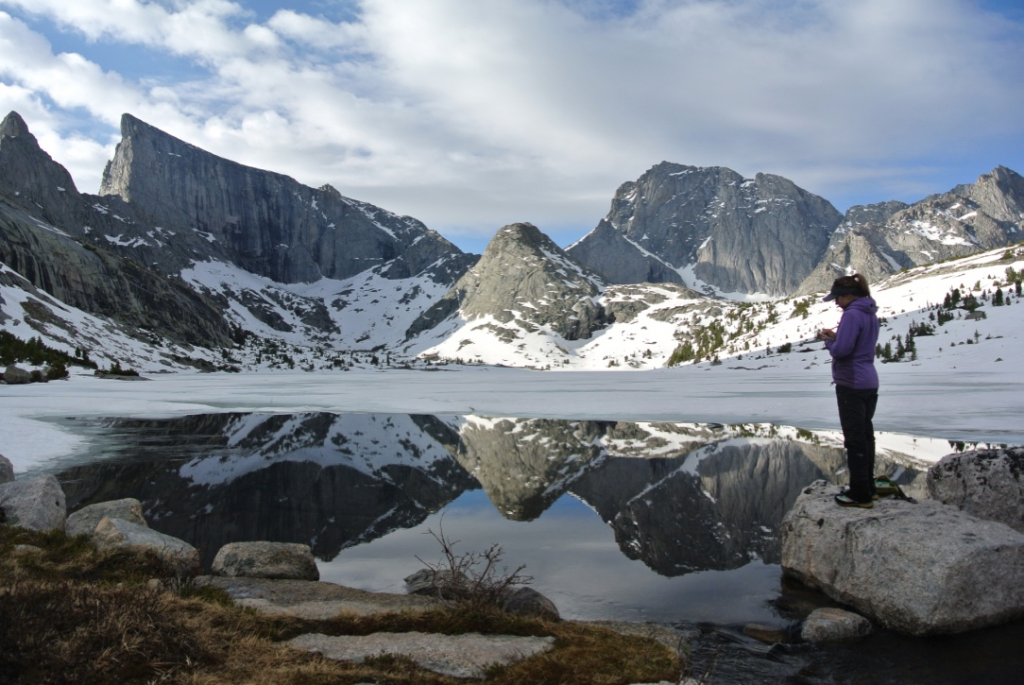 Morning sampling at the Deep Lake Outlet with East Temple Peak (to the left) and Temple Peak (to the right) in the background.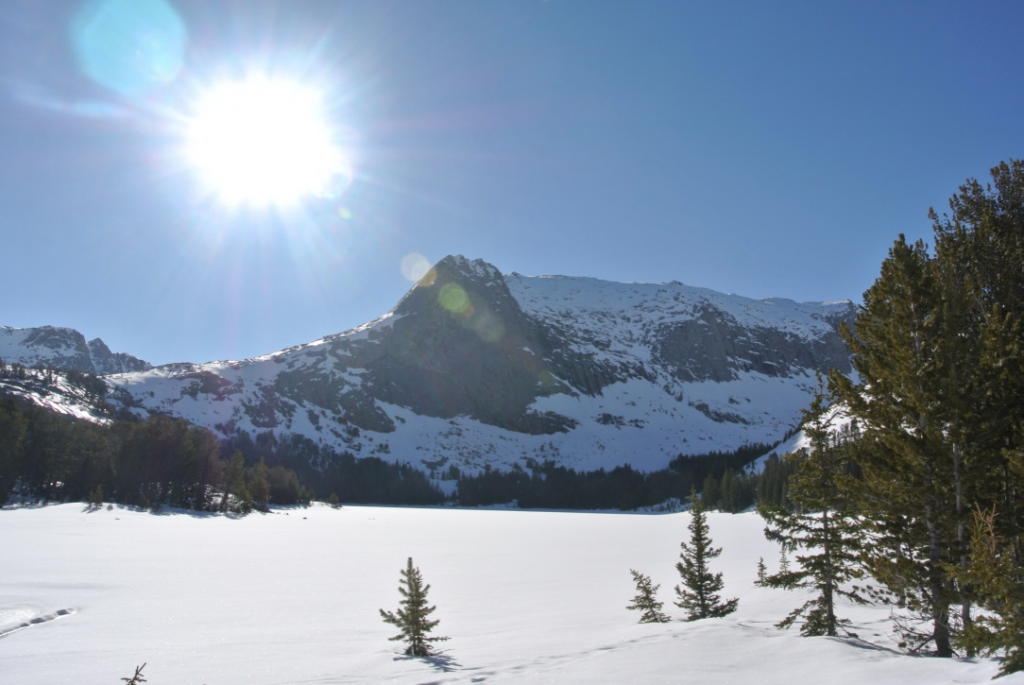 Before: 5/26 view of Clear Lake and Haystack from Basecamp.